Planning a trip to Amalfi this summer and looking forward to some beach time soaking up the sun? It's definitely a must during your stay on the Amalfi Coast. But did you know you had a choice for where to go to the beach in Amalfi? While it's not very large, there are several beaches you can choose from right in Amalfi. I'll introduce them to you all and you can pick which one to visit while you're here. Warning: You might have to visit them all to pick your favorite!
Marina Grande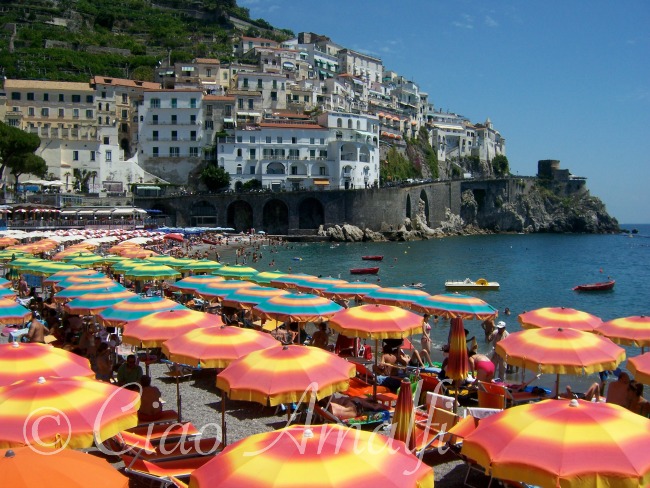 This is Amalfi's main beach and you'll spot it easily during the summer months with its rows of brightly colored beach umbrellas and sun beds. The beach is right in front of the center of the town across from Piazza Duomo. Every time the umbrellas change color it means you're at another stabilimento balneare, or area where you can rent a sun bed, umbrella, usually take a shower and change and often have access to snacks, drinks or full meals. You'll find many different options for where to settle in for the day along Marina Grande beach.
For a more local (although locals definitely use the sun beds and umbrellas, too) and budget experience, head to opposite ends of the beach where you'll see people have just thrown down beach towels or set up their own camps with umbrellas. Especially at the far end of the beach in the photo above is the most popular spiaggia libera, or a free beach, in Amalfi.
Insider Tip: Most of the beaches on the Amalfi Coast are rocky and this is definitely the case in Amalfi. Think large pebbles. If you're just planning a quick trip to the beach or spend most of the time in the water then the spiaggia libera is a great choice for you. If you're looking for a relaxing day at the beach, I'd highly recommend renting a sunbed since the rocks are not very comfortable.
Lido delle Sirene
If the Marina Grande beach might feel a little too crowded for your taste, then walk along the harbor to the other end of Amalfi where you'll find the Lido delle Sirene (Mermaid Beach) just beyond the confine of the port. It's not a long walk, just about 10 minutes leisurely pace. Here you won't find a spiaggia libera, but you will find an excellent beach service with shower, plenty of changing rooms and a restaurant overlooking the beach. Enjoy sandwiches on the beach or take a break from the sun and enjoy the views from inside the restaurant. Many locals, especially if they live elsewhere and come back to Amalfi for a period in the summer, reserve a sunbed for every day at this beach.
Porto
As you walked along the harbor from Marina Grande beach to the Lido delle Sirene, you might have spotted a small  beach area covered with towels and surrounded by docked boats. This beach is usually just referred to as the porto, or port, and is a very popular spiaggia libera with locals. It's especially a top choice for families with young kids since the swimming area is shallow and the sea is calm. Although it can get a bit rowdy with kids playing during the summer!
La Marinella
This little beach is tucked beside the restaurant La Marinella and they offer a small beach area and deck with sunbeds and snacks and drinks in the bar nearby. The water here tends to be remarkable clear and sparkly, which is oh so tempting when you walk by above. It's another popular spot with families, especially with very young children, since there's plenty of shade below the deck, the water is calm and the swimming area small. While it might not be the top choice for your holiday beach day, it's fun to stop and peek down as you're strolling by. Generations of Amalfitani have taken their first dip in the Mediterranean at this beach.
Bonus … Santa Croce
I know I said this was a guide to the beaches in Amalfi, but just take a look at that photo. Can you blame me for wanting to squeeze in one of my favorite beaches on the Amalfi Coast? This is the Santa Croce beach, which while technically located in Amalfi is only reachable by a short boat ride. (They're used to be access via steps from the road high above, but those met an unfortunate end one stormy winter a number of years ago…)
There are two options for reaching Santa Croce beach from Amalfi. One is to pay a small fee and take one of the boats that departs from where all the ferries depart in Amalfi. They are smaller boats and have a ramp that can be lowered down in the front, which is how you get off at Santa Croce. You can see one in this blog post from last summer about Santa Croce. As soon as you step off the boat you'll see why this beach is so very special. The water here is just magical!
The other option is to arrive at Santa Croce by the boat service connected to one of the two restaurants at Santa Croce. My favorite way to reach Santa Croce is to take the small boat run by the Ristorante Da Teresa. When you arrive there's a small pier that leads to their beach area (with the bright orange umbrellas) surrounding the restaurant. You can rent sun beds and umbrellas and either eat a feast on the beach (they make amazing panini and fried calamari or my favorite – a mix of grilled veggies) or dine at the restaurant. Excellent food! And don't forget the carafe of local white wine with peaches. We often get that for lunch down on the beach and they'll give you skewers to spear out the big chunks of peaches. Yep, that's heaven right there!
With this guide you're now set to hit the beach in Amalfi. If you have more than one day, I recommend visiting different beaches since they all have their own vibe and experience. Even the water can be remarkably different from one beach to the next. Most of all, enjoy your time al mare in Amalfi!