There are places where a spirit remains, especially when those places are much-loved homes. One such place is La Rondinaia, a remarkable villa in Ravello that was home to the American writer Gore Vidal (1925-2012) for more than 30 years. Its whimsical name—meaning "The Swallow's Nest"—comes from the villa's improbable setting where it appears to cling for its life to the side of the cliff just below Villa Cimbrone. Certainly one of the most striking homes on the Amalfi Coast, La Rondinaia is a place that invites curiosity, like anything beautiful placed just out of reach.
A private villa since it was built in 1927, La Rondinaia was created by Ernest William Beckett, Lord Grimthorpe, the owner of the Villa Cimbrone, as a home for his daughter Lucy Beckett. From the very beginning, it was a home to the arts as Lucy's notable guests filled the rooms with cultural conversations. The secluded setting and spectacular views were the perfect hideaway for movie stars, dignitaries, artists, and writers. And it would prove irresistible to Gore Vidal, who bought the villa in 1972.
While I've not read a great deal of Vidal's writing, I've long been curious about him. Well, more specifically, his home in Ravello and the time he spent there. For the 12 years I lived in Scala, the view from my bedroom window looked across the valley to Villa Cimbrone and beyond that to the sea. Although Vidal had left Ravello a couple of years before I arrived, I knew he had lived over on the other side of Ravello at La Rondinaia. The home and its sweeping view he had so greatly loved was encompassed by the view I had come to love. There's something of an affinity that comes with sharing a love of a place.
Earlier this spring, thanks to a collaboration with FAI, the Fondo Ambiente Italiano, La Rondinaia was open to the public for the first time in its history. Privately owned since Gore Vidal sold it in 2005, the villa and its surrounding gardens have been beautifully restored and transformed into a spectacular setting for private events. After 15 years of curiosity, I was finally able to visit La Rondinaia – and it was very much worth the wait!
The March day I visited was one of those perfect spring days on the Amalfi Coast. The sun shimmered on the Gulf of Salerno and daffodils were scattered around the villa's entrance. The air was full of anticipation as small groups of visitors crunched along the gravelly pathway through the silent gardens. Ceramic benches seemed perfectly placed to stop and enjoy the view. I could easily imagine Gore Vidal doing just that as he walked down the long, tree-lined pathway that connected his home with the center of Ravello.
Gore had first bumped down to Ravello in 1948 in a Jeep with his friend Tennessee Williams, and had been captivated by the views despite the gloomy winter weather. Many years later, Vidal was living in Rome with his companion Howard Austen (1929-2003) when they spotted a for sale advert for La Rondinaia. As I gazed at a lizard lazily sunbathing on a ceramic bench, I thought of the mess Vidal and Austen had found when they purchased the villa in 1972. It must have been love because what they bought was a house that was difficult to reach, crumbling around the edges, with a fixed colony of lizards, scorpions in the bathtub, and toilets that wouldn't flush. But oh those views! Vidal made note of the vaulted rooms and long corridors (good for bookshelves, he thought). Its hidden away setting appealed to Vidal—every writer in some way longing for quiet—and perhaps even the precariousness, the feeling that it might just tumble down into the deep blue sea far below.1
Vidal, who described himself as having a lifelong "obsession with houses" and desire to put down roots, had found his next home.2
Gore Vidal lived a grand, sweeping life in locations around the world, and in many ways La Rondinaia was his own hidden away place to create. Reading some of the words he wrote while living in Ravello, especially his second memoir Point to Point Navigation: A Memoir (2006), reveal a man who felt deeply and cared deeply. As sharp as his wit could be, when he turned his eye on something that moved him—whether it be a place, a person or moment in history—he wrote in a captivatingly candid way. And one of those places he cared about deeply was La Rondinaia. Looking down the steps leading to the villa, it is certainly easy to see why.
Once again the La Rondinaia has a new life and every detail of the villa has been beautifully refinished and modernized. Yet, just steps from the main entrance, Vidal's presence remains. Along an elegant hallway—which was indeed at one point lined with bookshelves holding his collection of over 8,000 books—is Vidal's former office. The vaulted room has a large desk with many of his personal effects, including stationary, photos, and typewriters. And there next to the desk is the balcony—and beyond the view—that he loved.
"Much time over thirty years was spent on the balcony overlooking the Tyrrhenian Sea. Ulysses, more than usually off course, was believed to have sailed … well, rowed on the scenic route back home to Ithaca. Several miles to the back of my head are the temples of Paestum." – Gore Vidal, Point to Point Navigation: A Memoir3
As a writer, it was very special to step into the space where Vidal had created so much. And, at least for this (but likely for everything else), Vidal wouldn't scoff at me. In Point to Point Navigation, he quotes his first memoir Palimpsest: A Memoir (1995): "I have always been curious to know where writers are physically situated when they write memoirs. Their placement during works of the imagination is less relevant because the true geography of a fiction is all in the mind but a memoir is set off by a thousand associations, even by objects in a given room."4 And this was that very room, which was one filled with the clacking sound of typewriter keys in the vaulted space as he wrote day after day, year after year. I half expected his white cat or brown cat, the "13-year old brothers" as he described them once, to saunter in and plop down on the office sofa.5
The FAI tour of La Rondinaia lead through the living room, a place where Vidal continued Lucy Beckett's tradition of gathering together interesting visitors from around the world. Names like Italo Calvino, Franco Zeffirelli, Princess Margaret, Paul Newman, Susan Sarandon, Leonard Bernstein, Andy Warhol, Hillary Clinton, Sting, Rudolf Nureyev, Mick and Bianca Jagger were welcome guests at La Rondinaia. (A fly on the walls in those years would have been highly entertained.) The space felt unusually quiet in contrast to its past and I was pulled by the view outside again. On this far side, where the villa seems to dissolve directly into the cliff below Villa Cimbrone, you can really feel the improbable relationship of mountain and house. Cliff above, sea below, and in between the space Vidal called his Terrace of Inspiration.
This was the spot no one on the tour wanted to leave. Much of the visit had taken place in a revered silence, but standing on that terrace a woman next to me—a fellow visitor in my group—turned and looked deep in my eyes with the urgent need to connect to someone, anyone, and said, "Even we could write great books in such a place as this." She was absolutely right.
The final spot on the tour was a visit to the terraced gardens and pool – the pool Vidal had built especially for Austen. Somehow even more than in the house, I felt Vidal's words in the garden. Walking around there are ghosts of the past, which in many ways were already there when Vidal left. The pages of his second memoir, written in his final days in Ravello, are already inhabited by ghosts – friends and especially vivid memories of Howard Austen, who had passed away in 2003. With loving a place comes the challenges of leaving it, something that Vidal knew well. While he could pack up his 8,000 books and walk along that tree-lined path one final time, through his memoirs he left something important behind for us – his memories and deep love of this place.
Gore Vidal was an honorary citizen of Ravello, something he treasured as he kept the parchment from the ceremony on his desk. What exactly drew him to this place we'll never know exactly, but he recognized it from his first visit. Perhaps it was something of what E.M. Forster picked up on during his time in Ravello, and that has inspired so many artists and writers. Even after my first visit, there is something undeniably special about La Rondinaia, something that Vidal enjoyed being the custodian of for those 33 years.
And now the Di Natale family, thankfully appreciative of the past, have continued to preserve La Rondinaia in a new way. While the villa has been re-imagined as a space for events, exclusive stays, and special visits, the spirit of Vidal remains in the tribute to his former study and in many small ways throughout. Last autumn, Vincenzo and Gerardo Di Natale—two brothers who are the current owners of La Rondinaia—created the short film Ravello Rendez-Vous to commemorate 10 years since Vidal's passing in 2012. While it's only available in Italian, it's a beautiful glimpse inside La Rondinaia and what it meant to Gore Vidal.
A second visit to La Rondinaia this spring was a pleasant surprise, this time for a presentation for Paolo Romano's book Io, la Campania: Autobiografia di una regione meravigliosa (Marlin, 2022). This first book presentation to take place at La Rondinaia (the first of many I hope!) was held on the "Terrazza della Muse" (Terrace of the Muses) with a stunning backdrop of the Amalfi Coast at sunset. Listening to the author in conversation with Emiliano Amato from the Il Quotidiano della Costiera, Gerardo di Natale, the owner of La Rondinaia, and Tiziana D'Angelo, the director of Paestum, was an electric experience.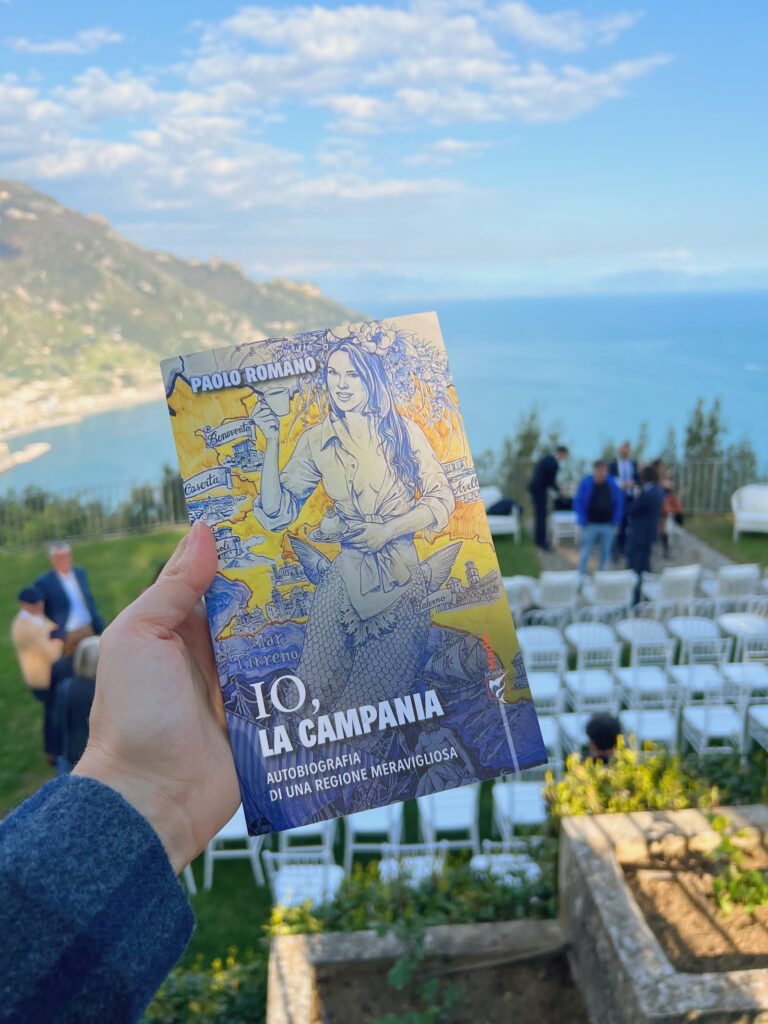 Everyone present knew that something very special was happening. It was only later that evening back at home that I recalled the very final passage of Vidal's memoir Point to Point Navigation—the quotation excerpted above about his balcony—ends with the word Paestum. As the young director of Paestum shared stories and her insight on recent discoveries from antiquity at Paestum, it was something of a full circle moment that I felt Vidal would have appreciated. Back in 2004, reflecting on his decision to leave La Rondinaia, he said, "Everything has its time in life."6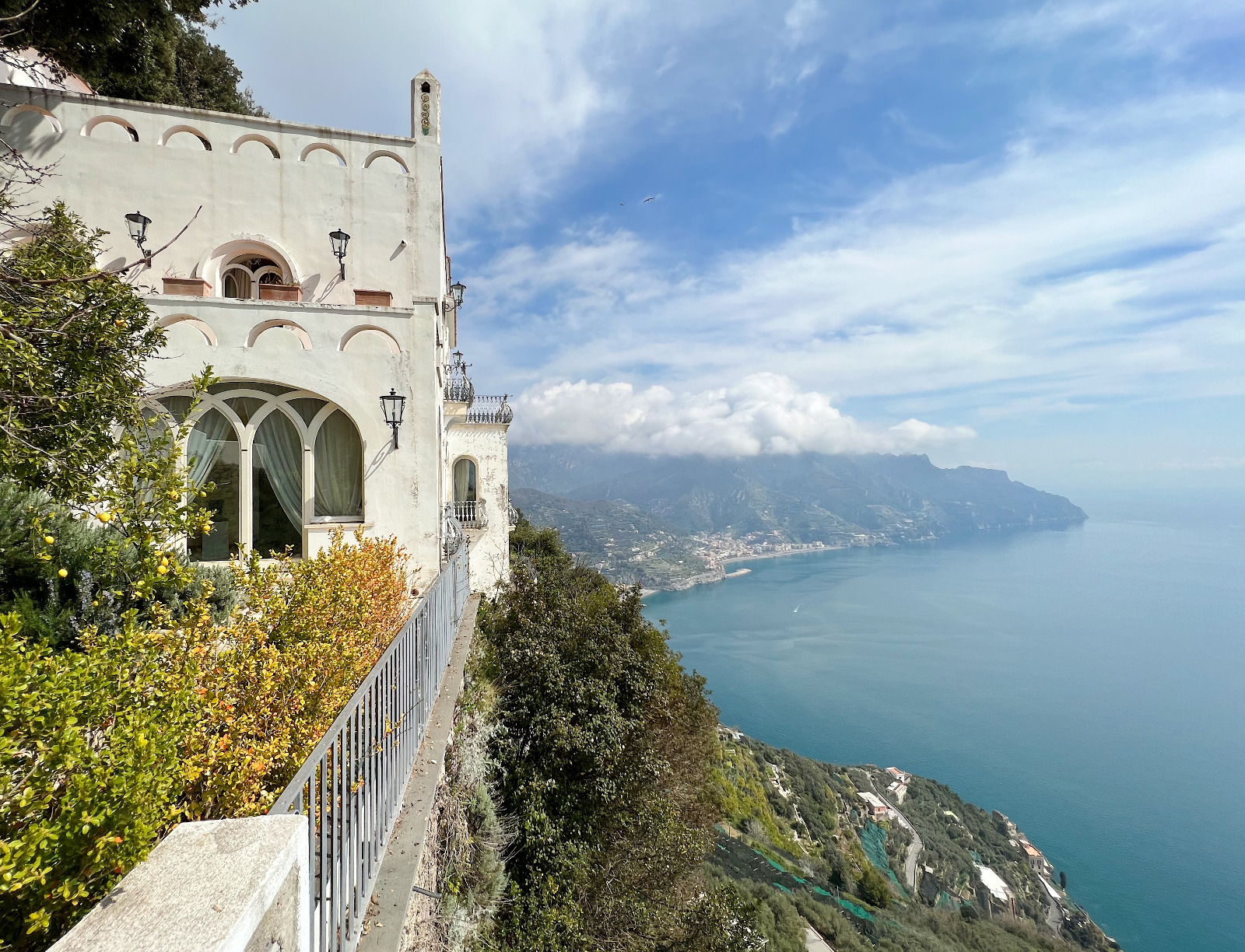 La Rondinaia now has a new time in its life, but one that pays homage to its past and its time as the much-loved home of Gore Vidal. For more information, visit the La Rondinaia website to plan a very special stay or event on the Amalfi Coast.
NOTES:
1. Jay Parini, Empire of Self: A Life of Gore Vidal, 2009, from III. Italian Hours.
2. Gore Vidal, Point to Point Navigation: A Memoir, chapter 37.
3. Vidal, Point to Point Navigation, chapter 56.
4. Vidal, Point to Point Navigation, chapter 7.
5. Vidal, Point to Point Navigation, chapter 16.
6. Joseph Giovannini, "For Gore Vidal, A Last, Long Look From the Heights," The New York Times, August 26, 2004.