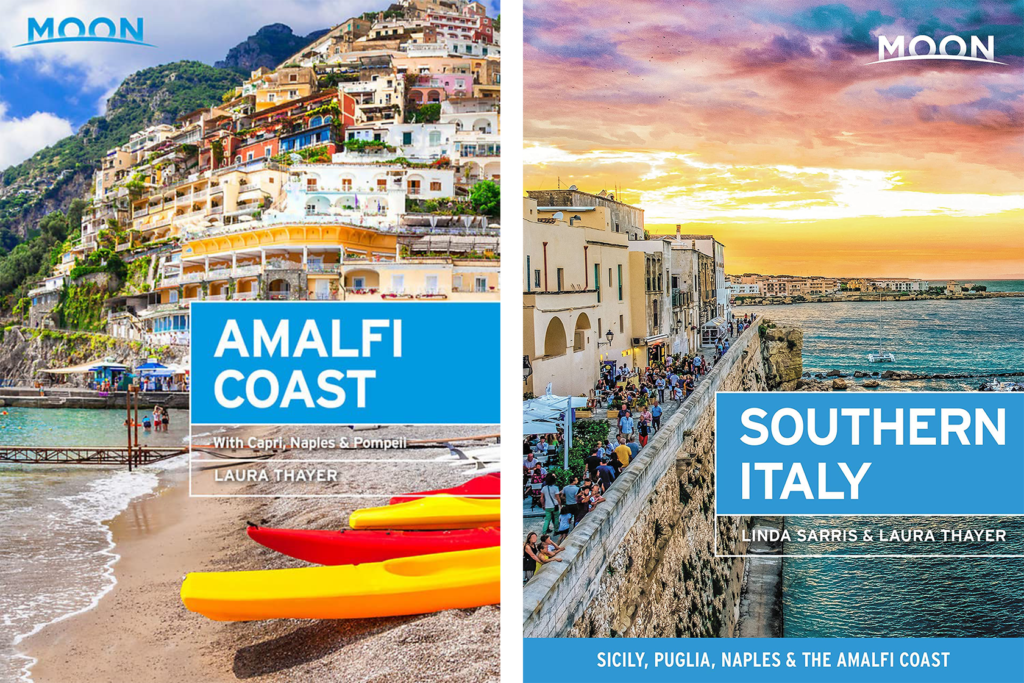 Moon Amalfi Coast with Capri, Naples & Pompeii, 2nd Edition
First released in 2019 by Moon Travel Guides, Moon Amalfi Coast is my in-depth guide book to the Amalfi Coast with detailed information on Salerno, Sorrento, Capri, Ischia, Procida, and Naples. Based on 15 years of experience living on the Amalfi Coast, this book was truly a labor of love. It's packed full of information on what to see and do as well as excellent restaurants and accommodations. Think of it as me cherry picking the very best of the best just for you – because that is exactly what I've done with Moon Amalfi Coast.
The second edition of Moon Amalfi Coast was released on February 8, 2022. It's available now on Amazon and Bookshop or at your favorite local bookshop!
Moon Southern Italy: Sicily, Puglia, Naples & Amalfi Coast
"From the pastel rooftops of Positano to the soaring peak of Mount Etna, immerse yourself in la dolce vita with Moon Southern Italy." And that's just the start! Moon Southern Italy is your guide to the Sicily, Puglia, Naples & the Amalfi Coast. The first edition was released on April 26, 2022 and includes a selection of Moon Amalfi Coast along with entirely new information for Puglia and Sicily written by my co-author Linda Sarris, a food, wine, and travel consultant and private chef based in Palermo, Sicily. If you're planning to visit the Amalfi Coast and then head south to Puglia or over to explore the island of Sicily, let Moon Southern Italy guide your adventures!
Note: This page contains Amazon Associates and Bookshop.org affiliate links. This means I receive a small commission if you purchase after clicking on the links. There's no additional cost to you, but your support helps keep Ciao Amalfi ad free. Grazie!