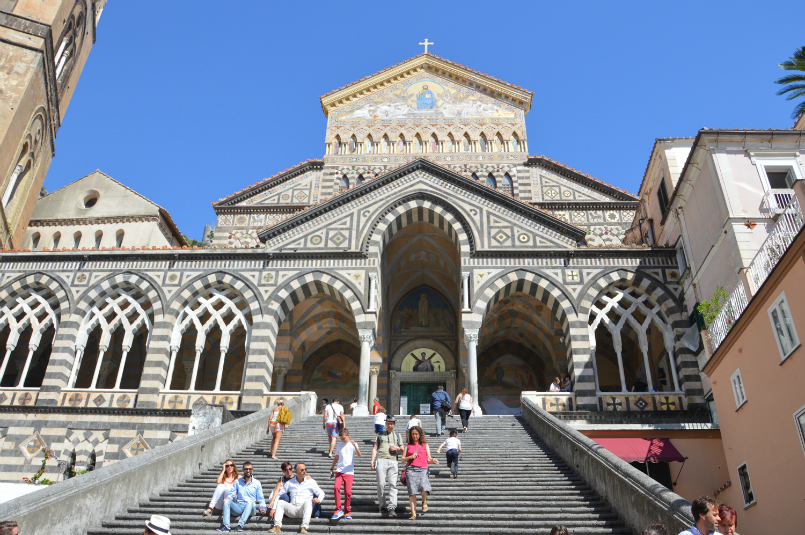 When my mother first set foot in Amalfi's main piazza and stood gazing up at the Duomo of Amalfi, something deep inside her said, "Home." It was strong, clear and visceral. She didn't tell me this story until many years later, long after I had moved to the Amalfi Coast.
My first experience with Amalfi, while not quite so succinct, was just as powerful. It was as a result of my mother's immediate connection, since I tagged along on her subsequent trip to the Amalfi Coast. The emotions that flooded over me that first time I set foot in Amalfi were overwhelming. Later that day, in late February 2007, I found myself in the hotel room in Vietri sul Mare trying to make sense of it all in my journal. I wrote that when I stepped off the bus and looked up the mountainside at the colorful buildings and the watchtower above, that I had felt so intensely that this would be an important place in my life.
And now it is my home.
Have you experienced that before? That odd yet extremely familiar feeling of finding home in a place you've never been before? If you have, you know just what I mean.
And if my mother and I both falling for Amalfi immediately at different times wasn't enough, there's more to this story. When I stepped off that bus in 2007 and knew instinctively that Amalfi would be an important place, I had no clue that my tour guide that day—now my husband—was born and raised in Amalfi. How's that for destiny?
Nearly ten years later, I still have moments when I marvel at this place I call home. Travelers come from around the world and fall in love with the Amalfi Coast. Perhaps with the pastel cascade that is Positano or with the dreamy views from Ravello. Or like me and my mother with Amalfi. There's some reassuring about know that around the world there are countless kindred spirits who have been here—or simply dreamed of being here—and have felt that deep connection with the Amalfi Coast.
What can I say? When your heart says home, you have found your place.
Italy Blogging Roundtable

This blog post is part of a series called The Italy Blogging Roundtable. Every month our group of Italy based writers takes on a new theme, and you can read the contributions for this month's topic – Home – at the links below. We'd love to hear your thoughts and comments. Please share the stores if you've enjoyed them!
Bleeding Espresso – Christmas in Calabria: Home for the Holidays
Brigolante – The Humble Art of the Nativity Crèche in Umbria
Italy Explained – You've Been Gone So Long (On Leaving Home & Finding Ancestral Roots)